For more than 19 years, Ennov has been developing innovative, powerful and easy-to-use software for document and process management. Using the knowledge and best practices gained from more than 150 Life Sciences customers and over 500 total customers, Ennov has designed and built solutions specifically for the health and life sciences sectors: Quality, Pharmacovigilance, Clinical Operations and Regulatory Affairs.
Ennov Platform
Unified Content Management: Document Management, Business Process Management and Business Intelligence
Ennov solutions are built on our Unified Content Management platform which is designed specifically for the management of regulated content and processes. The Ennov platform is the technological foundation of our Regulatory (EDMS, Dossier Publishing, RIM, IDMP), Quality (EDMS, QMS) and Clinical (eTMF and CTMS) solutions.
Our platform approach provides significant advantages over other products on the market:
Meets the regulatory needs of life sciences organizations
Complies with 21 CFR part 11
Is open to integration with other systems via its REST API
Is flexible and easy to configure
Incorporates unified ergonomics that are consistent throughout the software suite
Presents modern user experience and at the forefront technical innovation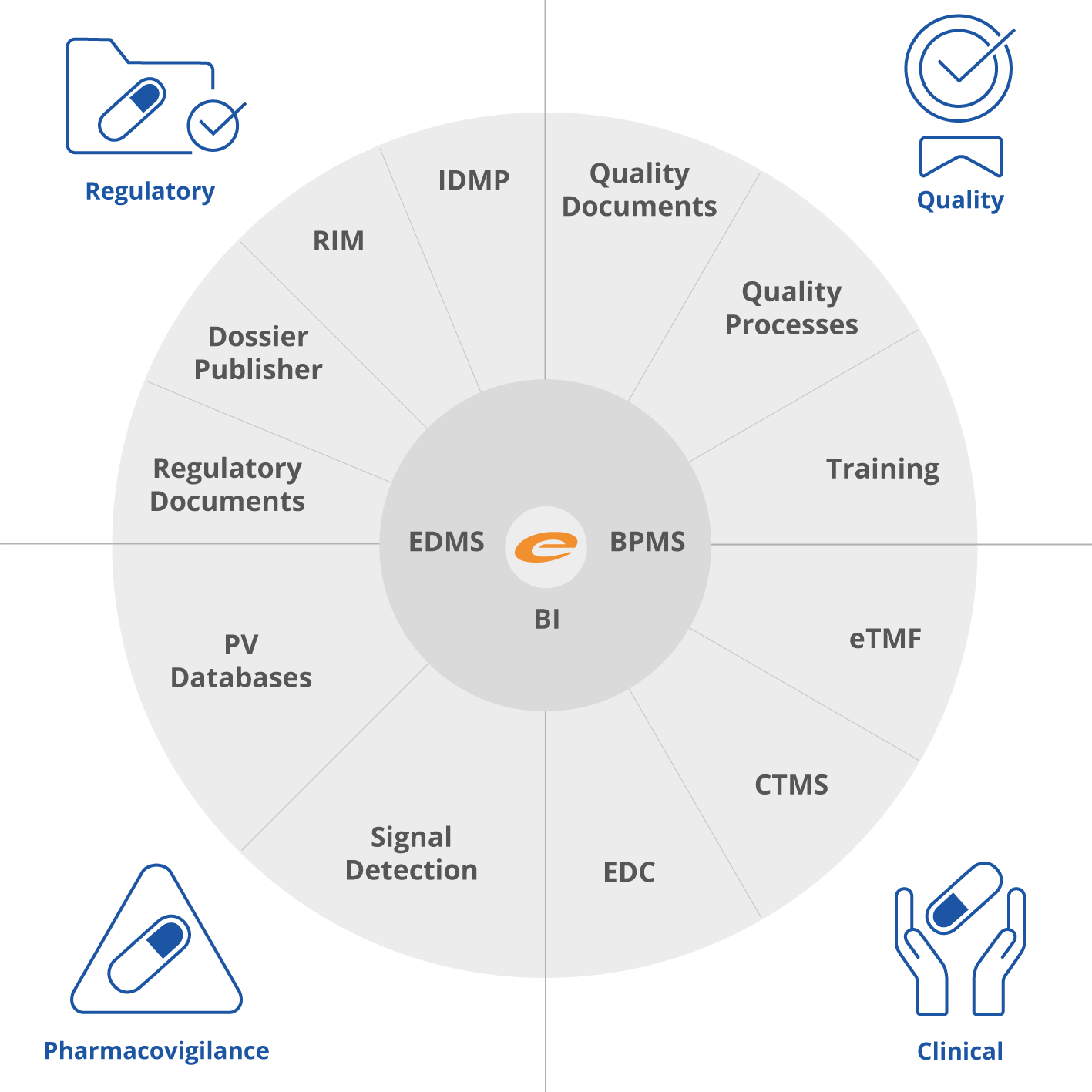 Ennov QMS is a fully integrated software product suite that combines Document Management, Business Process Management and Training Management to form a complete end-to-end GxP compliance solution.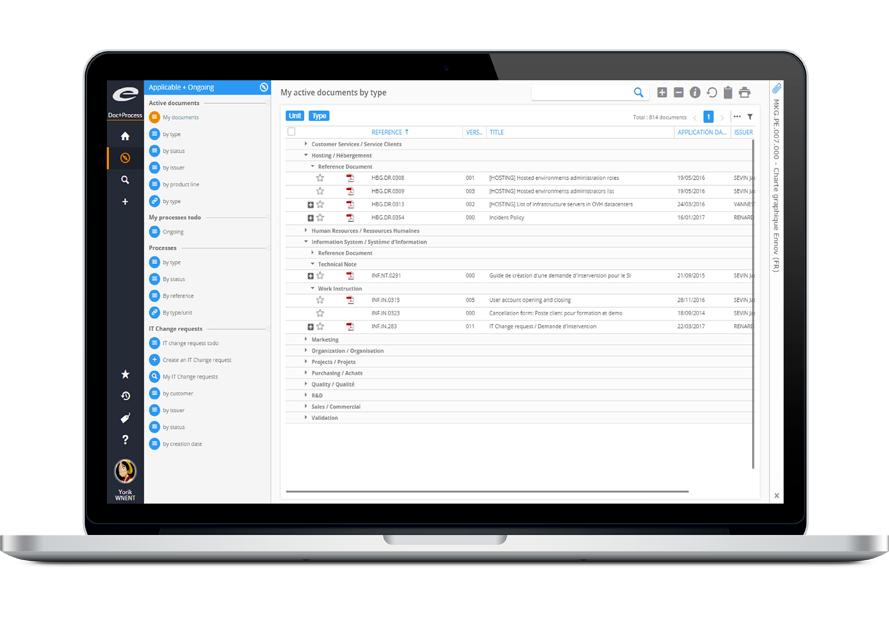 Ennov Doc – Quality Documentation
---
The most intuitive electronic document management software on the market, Ennov Doc manages the entire controlled document life cycle and provides your business experts with the flexibility to configure the system to meet their specific needs.
Integrated Dashboard allows users to work on the highest priority documents
Metadata-oriented navigation allows users to organize documents for easy location and retrieval
Flexible security model provides or restricts access by user, group or role
Powerful search engine supports metadata and full text queries
REST API provides seamless integration with other Quality systems
Pre-configured quality document inventory gets you up and running quickly
Ennov Process - Quality Processes
---
Business Process Management and workflow software designed with the end user in mind. A graphical editor allows your business experts to configure workflows without any IT intervention. A built-in reporting tool is completely configurable and provides the analytics required to drive your quality metrics.
100% web interface to manage any type of business process and related forms
Easy to use graphical workflow and forms editor
Tools to track and control current workflow instances
Powerful search engine
Flexible reports and dashboards
Real-time statistical analysis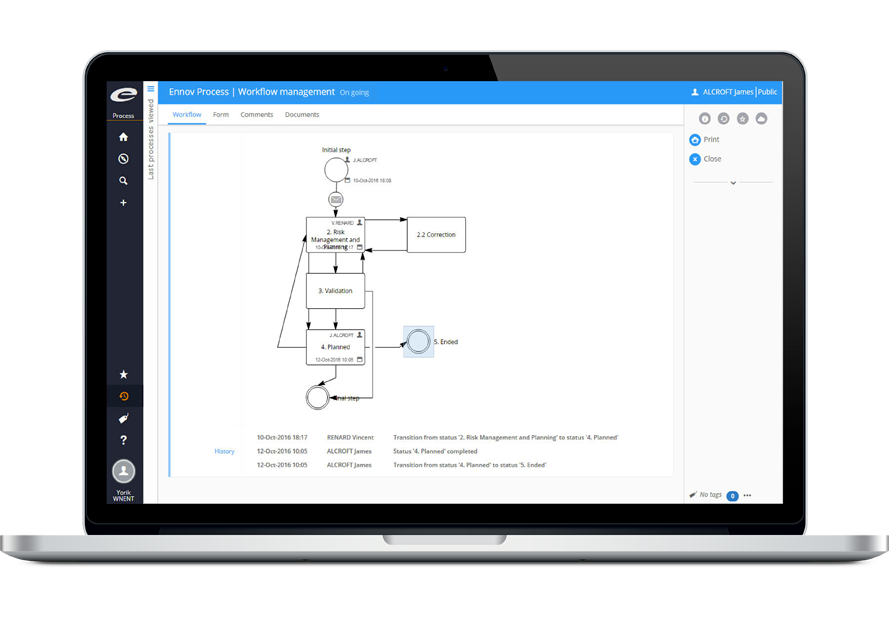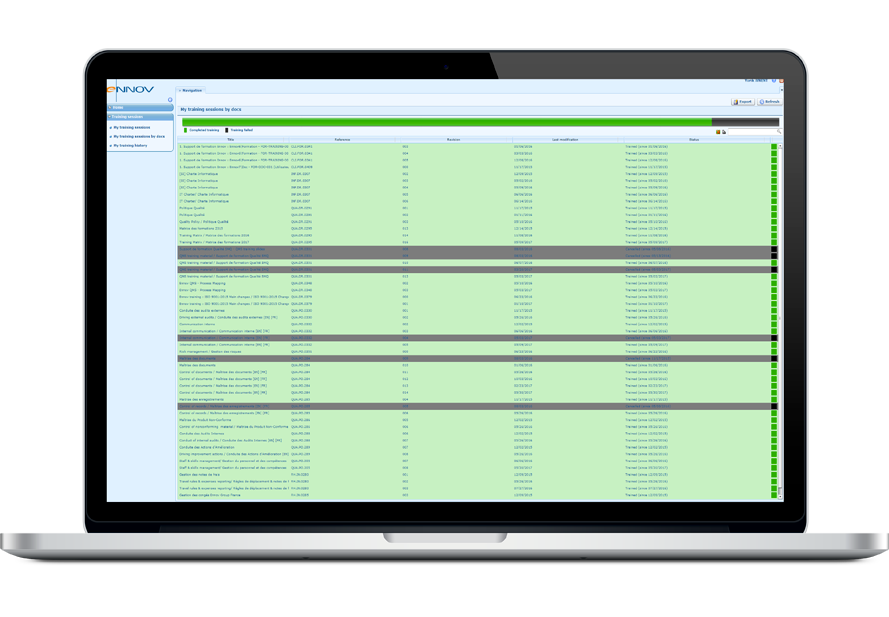 Ennov Training
---
A fully integrated Learning Management System simplifies the planning, execution and management of your training program and ensures compliance with your quality standards. Build training curriculums, monitor compliance and assess staff proficiency without a heavy administrative burden.
Configurable training validation workflows
Native integration with Ennov EDMS and BPM
Competency assessment management
Monitoring and tracking of staff learning
Training progress indicators
ISO 9001 and FDA 21 CFR Part 11 compliance
Ennov Regulatory is an integrated EDMS, RIM, IDMP and Dossier Publishing product suite designed to streamline your Regulatory operations.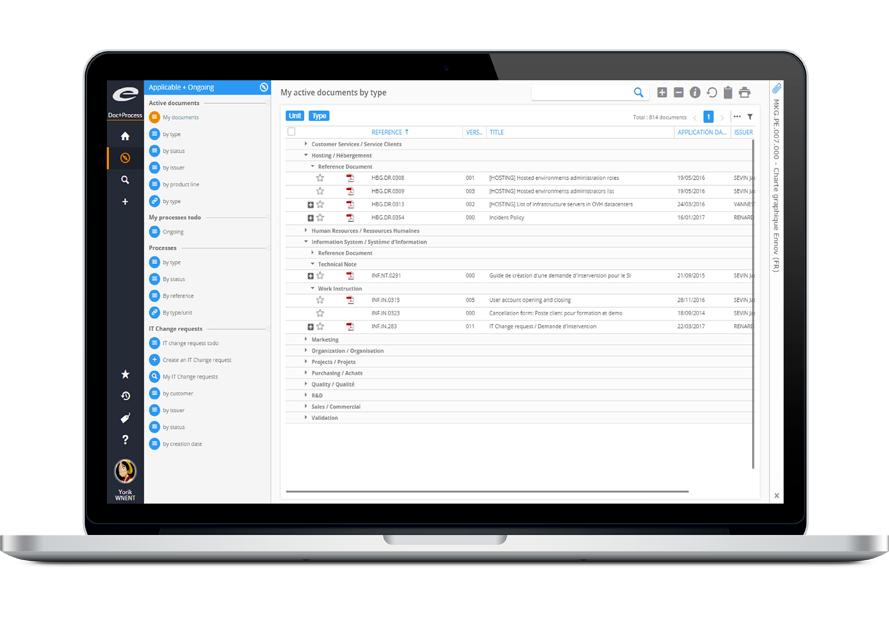 Ennov Doc – Regulatory content
---
A collaborative platform for the efficient creation and management of submission content – connecting your global regulatory community and accelerating your time to market. The pre-configured document inventory supports the DIA EDM reference model and provides the flexibility to adapt to the nuances of your regulatory operations.
An integrated Dashboard allows users to work on the highest priority documents
Metadata-oriented navigation allows users to organize, locate and retrieve documents with ease
A flexible security model provides or restricts access by user, group or role
A powerful search engine supports metadata and full text queries
Robust and flexible workflows connect users across geographies and improve efficiency
Pre-configured Regulatory document inventory gets you up and running quickly
Ennov Dossier – Submission Publishing
---
Comprehensive and scalable submission publishing capabilities suitable for operations of all sizes. Produce output that is compliant with all current regulatory agency requirements. Ennov Dossier supports the creation of both electronic (eCTD, NeeS, VNeeS and eCopy) and paper submissions using one common interface.
A 100% web-base, zero-footprint user interface makes it the ideal solution for multi-site or global deployments
Easy-to-use submission assembly controls are designed specifically for the capture and management of eCTD metadata
Submission assembly templates are provided for the regions that accept eCTD submissions
Iterative publishing of individual sections of the assembly is supported
Drag and drop documents from Ennov Doc or any WebDAV compatible repository into the submission assembly
Includes robust hyperlinking, bookmarking and eCTD validation functionality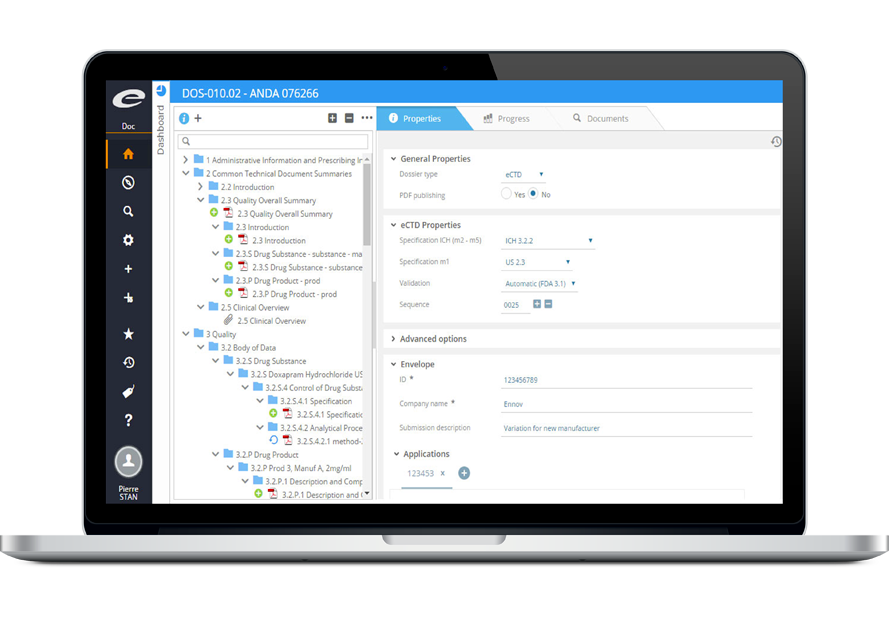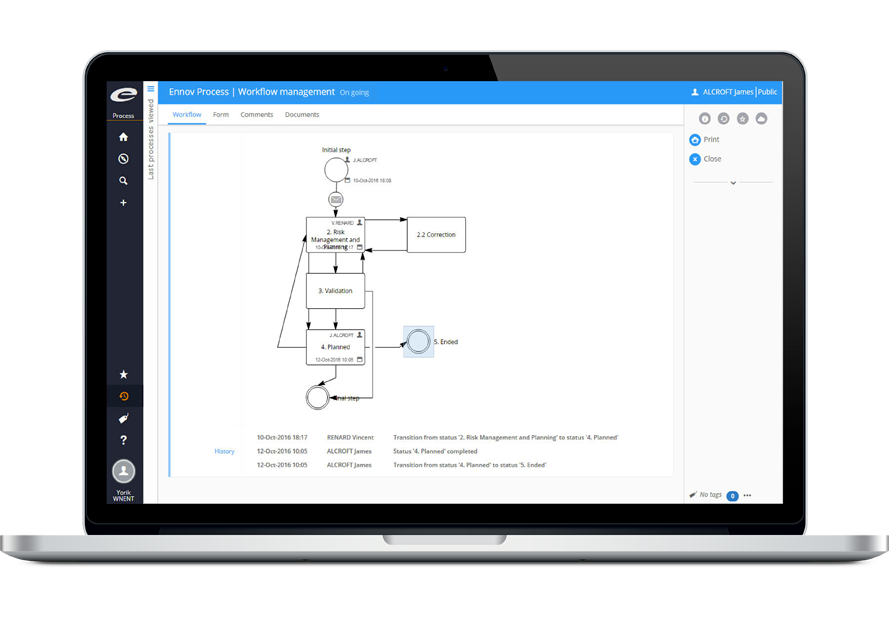 Ennov IDMP
---
A complete IDMP solution. ISO IDMP data management can require substantial effort – considering the working time required and the process complexity. Ennov IDMP and related services, simplifies the creation and maintenance of your IDMP data and allows you to direct valuable regulatory resources to your most important projects.
Simplified IDMP data management
Saves time and eliminates redundant data entry
Increases data quality and integrity
Seamless integration with Ennov Doc and Ennov RIM
Robust reporting and data tracking
IDMP Services: We help you navigate the complexities of ISO IDMP and effectively implement the standard
Ennov RIM
---
A purpose-built application for the management and tracking of medicinal product details and registration information. Whether you are planning the launch of a new product or handling variations to existing registrations, Ennov RIM provides users with the key information and functionality to effectively manage product registration portfolios worldwide.
Authorizations managed by product, indication and country
Plan, track and manage submission projects globally
Compliance with the ISO IDMP data standards
Seamless integration and interoperability with Ennov Doc and Ennov Dossier
Configurable workflows and email notifications simplify regulatory task management
Fast implementation timelines provide an outstanding ROI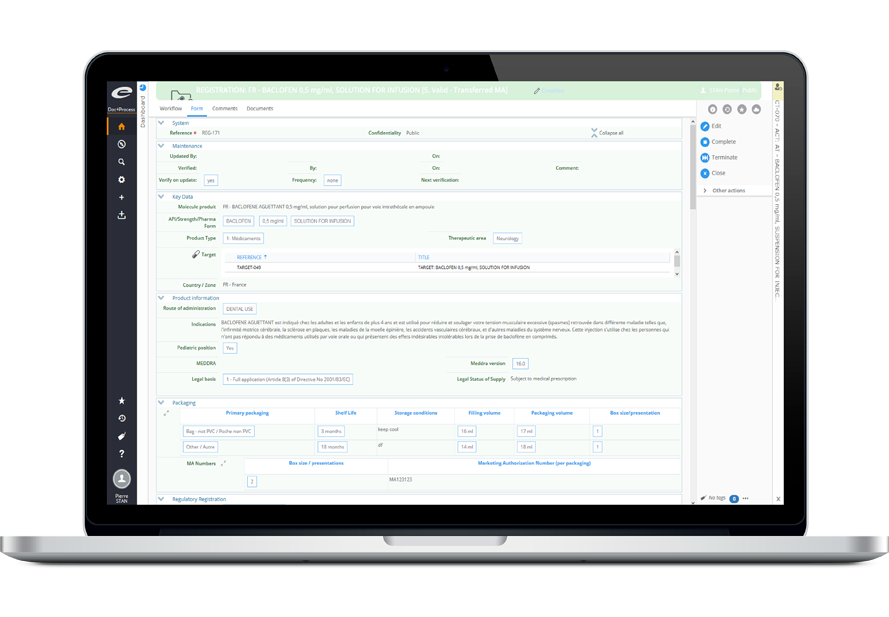 Ennov Clinical Suite: An integrated platform to manage all of your eClinical information and processes.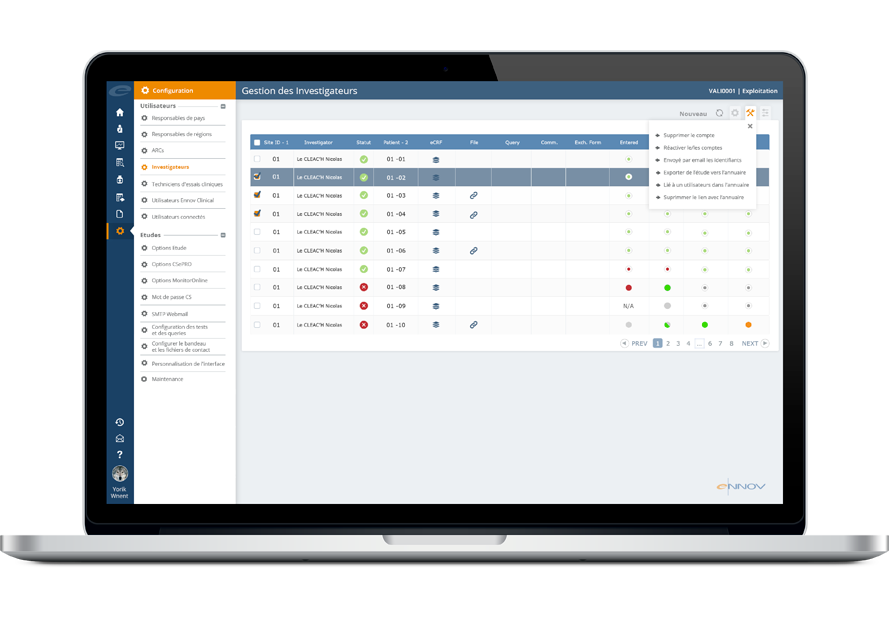 Ennov EDC
---
Easily manage single or multi-center clinical study data with one comprehensive solution. Create your eCRFs three times faster. Ennov EDC is CDISC certified for transactional ODM/XML data export allowing you to manage CDISC compliant archives. Our intuitive EDC software greatly simplifies:
Randomization
Consistency checking
Medical coding (MedDRA, WHO Drug)
Data import and export
eCRF creation
Offline data collection (on iPad)
Ennov CTMS
---
Provides clinical trial monitoring and cross-study controls. Ennov CTMS is natively integrated with Ennov EDC but can also be used with EDC solutions from third-party vendors (monitoring and data management information automatically retrieved).
Manage more complex studies with fewer resources
Optimize CRA monitoring visits
Monitor patient recruitment
Re-evaluate objectives and action plans
Follow expenses and budget (single study and cross-study)
Comply with regulatory constraints (centralized information, effective processes)
Start the study and activate the research centers more quickly
Identify trends between investigators, centers and studies to make the right decisions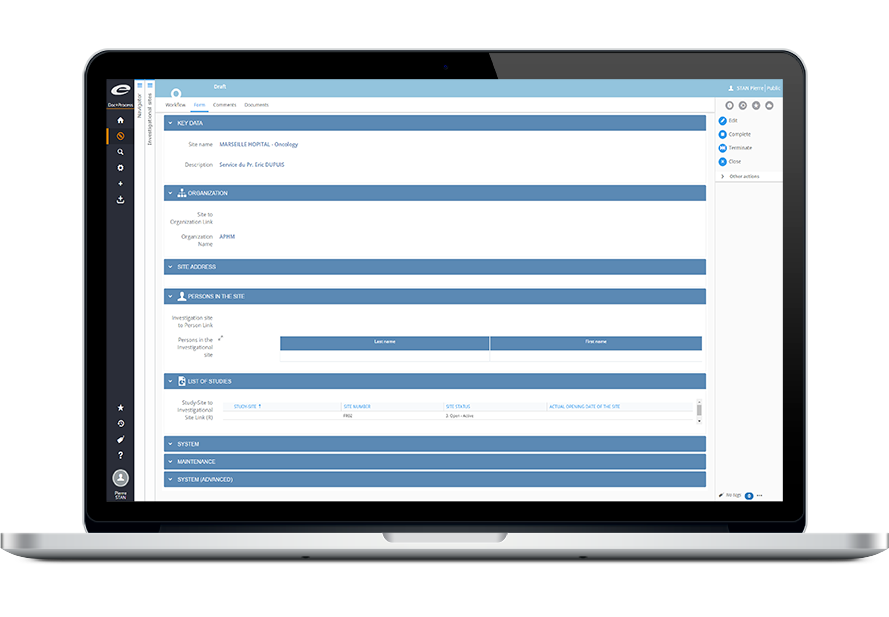 Ennov Randomisation
---
Sophisticated and efficient randomization of your clinical trials. Our data management suite includes a complete IWRS with a comprehensive array of features that is very easy to set up.
Settings can be made without programming
Choice of randomization methodology techniques (blocks, stratification, minimization)
Facilitates blinding, no anticipation of future allowances
Unlimited number of layers and treatment arms
Stratification (enumerated or continuous variables)
Randomization control (consistency testing, email alerts)
Trial supply management
Ennov ePRO
---
Accelerate study timelines and eliminate redundant clinical data entry. With Ennov ePRO, your patients can enter electronic data without having to worry about access, forms recovery or security.
Intuitive data input for the patient
Investigators have access to patient data in real time
Simplified data management compared to paper questionnaires
Significant decrease in project costs
Data entry through a web-based application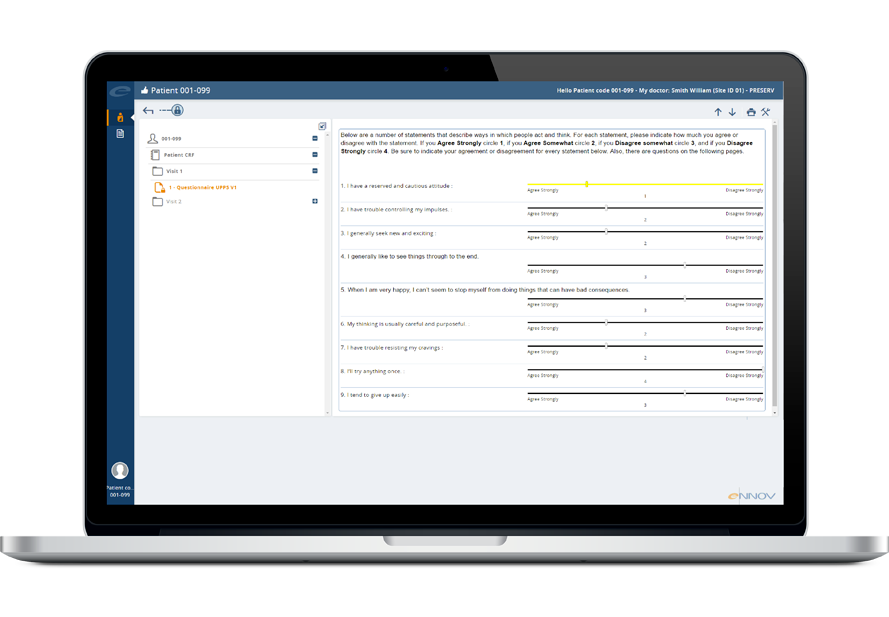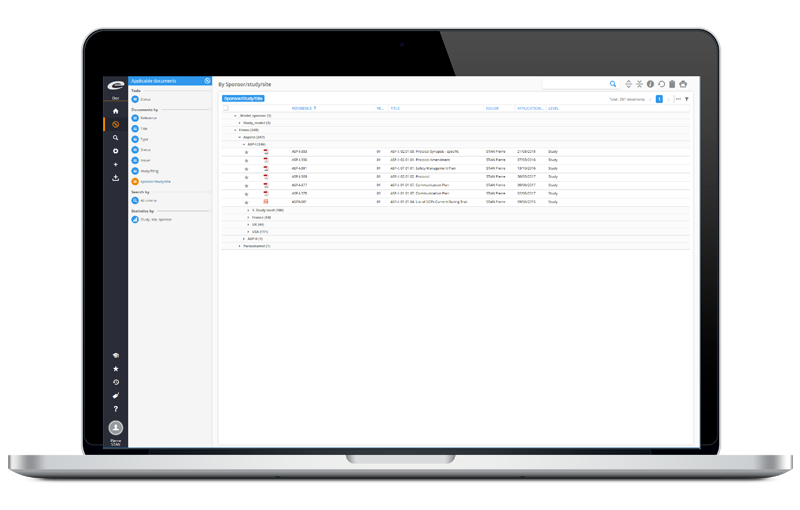 Ennov eTMF
---
Collect and manage essential clinical trial documents electronically in a central location and make them available to trial personnel from any location at any time. Streamline processes, increase transparency, simplify tracking and improve access using Ennov eTMF.
100% web-based solution is perfect for global trials
A powerful search engine makes locating documents easy
Workflow driven processes minimize operational variability
The integrated EDMS platform is comprehensive and is preconfigured per the DIA eTMF reference model
Compliant with FDA recommendations for clinical trial audits
Easy navigation and synthesis using configurable views, queries, and visualization tools
An integrated safety suite for human or veterinary adverse event management and signal detection.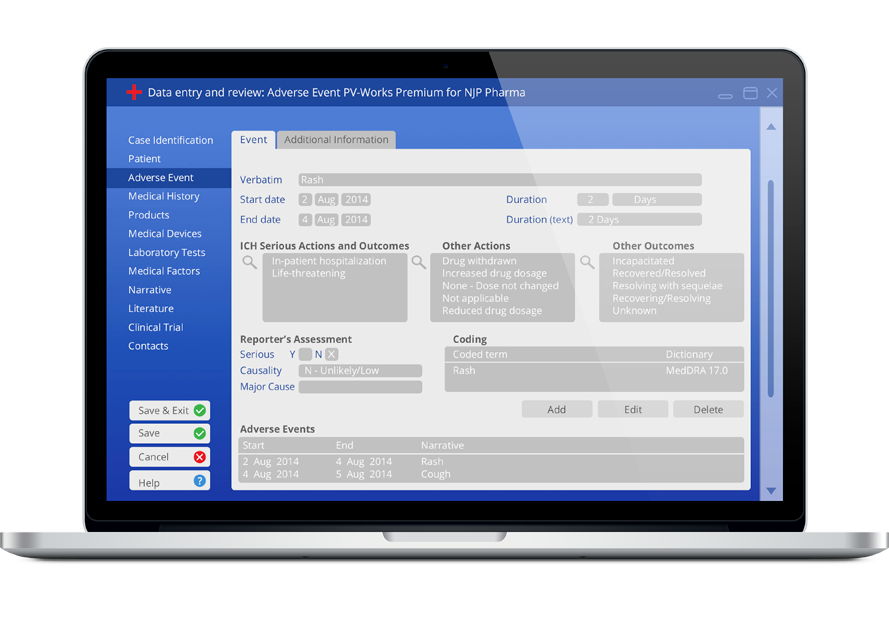 Ennov PV-Works
---
An industry standard, PV-Works is used by many pharmaceutical, animal health. medical device and clinical research companies to record, track and report adverse events. It meets all international regulatory requirements, including ICH E2B electronic submission.
Deployed in the cloud or on-premises
21 CFR Part 11 compliant
Straightforward case review and approval
Coding of cases against current MedDRA dictionary
Handles spontaneous and clinical trial adverse events, technical inquiries and product complaints
Manages pharmaceutical, biological and cosmetic products as well as medical devices
Ennov PV-Analyzer
---
Detection and analysis of pharmacovigilance signals. The implementation of a process to identify potential signals is essential. PV-Analyzer is a comprehensive signal detection and data mining software solution that includes robust data visualization and export capabilities.
Robust data mining capabilities
Comprehensive statistical stratification
Advanced graphical data presentation and reporting
High degree of configurability
Available as cloud-based or on premises deployment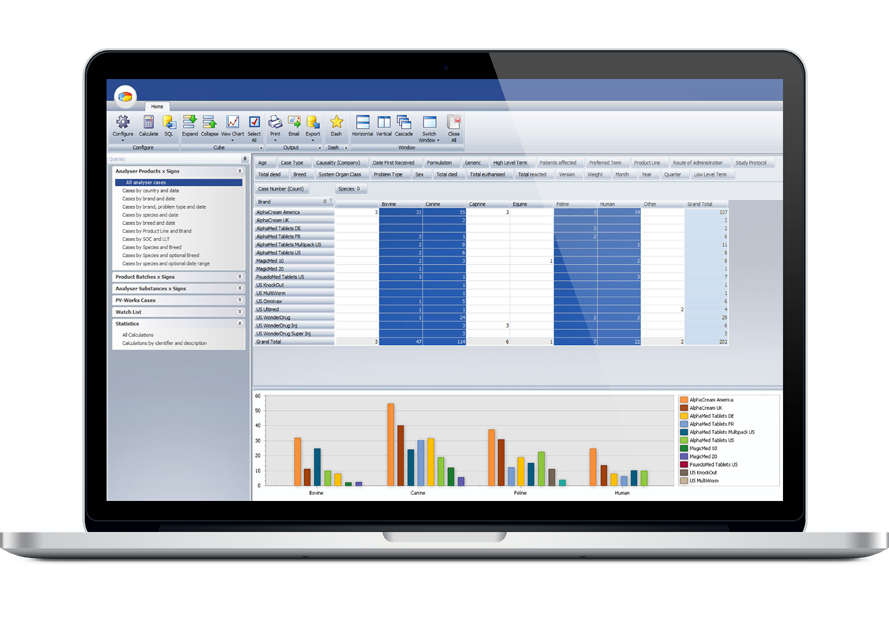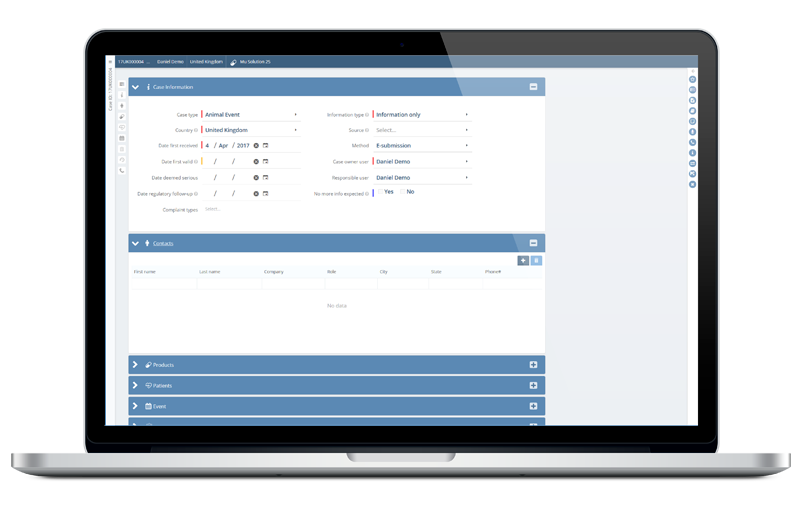 Ennov PV-Entry
---
Effective entry of pharmacovigilance cases. A web-based application that revolutionizes the management of PV data includes an optimized interface to meet the needs of users who manage PV cases.
Configurable interface to reflect the call flow, device type, and user experience level
Modern and intuitive web design
Accelerated data entry: drag-and-drop entry for regularly used data
Speech recognition to reduce data entry
Fast deployment and reduced training costs
Ennov PV-Express
---
Remote entry of pharmacovigilance data. A structured data input format with standard vocabulary lists is available in a variety of languages including English, most European languages, Kanji, Arabic and Mandarin. Lightweight PDF forms or dynamic browser-based web forms are optimized for deployment on smartphones and tablets and securely upload data to the PV database.
Data entry in the user's language
Custom Interface: Input form configured to reflect the type of case or user experience level
Smartphone/tablet-based deployment to access all features of the device
Quick deployment: Capture data from new sources