Ennov Process
Flexible and Compliant Business Process Management Software
Full traceability of your processes
Collaborate effectively – 100% web-based
Flexibility to automate any business process
Fit for highly regulated, global industries
Cloud-based or on-premises deployment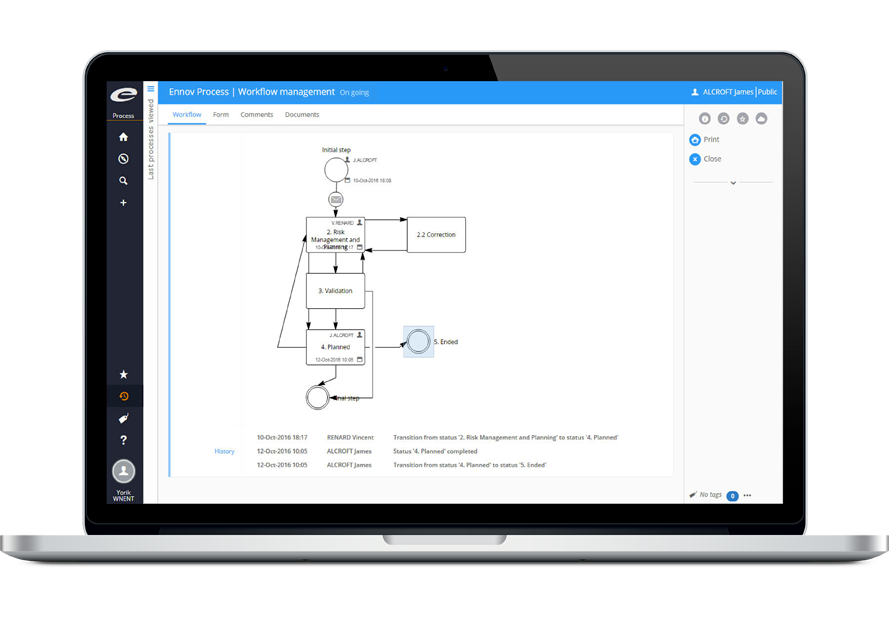 The BPM challenge
Imagine improving business operational efficiency while ensuring regulatory compliance. Sound impossible? Well the good news is that it is possible thanks to Business Process Management Software (BPMS) from Ennov.
Regulated companies must control their business processes for both quality and regulatory reasons. At the same time, they must make these processes as efficient and effective as possible to decrease time to market and remain competitive.
Manual, paper-based processes can get bogged down and are very hard to manage, track and control. They are also slow, error prone and notoriously difficult to scale and deploy globally.
If these challenges seem all too familiar, a comprehensive fully-integrated BPMS can help streamline your business operations, ensure compliance and increase your overall efficiency.
Benefits of BPMS
Control: Eliminate variability and ensure adherence with company policies and procedures
Collaboration: Connect disparate parts of the organization through a unified digital platform
Compliance: Meet 21 CFR Part 11 and GxP requirements
Efficiency: Automated tasks, progress tracking and electronic notifications converge to eliminate bottlenecks and delays
Agility: Quickly and easily update process models to react to business changes without IT involvement
Accessibility: 100% web-based solution provides 24/7 availability. Local language user interface connects global users on a single platform.
Streamline any type of business process
Most operational processes can be automated using our configurable form builder and robust workflow modeling capabilities.
The workflow engine supports dynamic assignment of participants, criteria-based routing and complex transition rules. Workflows can trigger sub-processes or other workflows. Our intelligent forms builder facilitates the capture of process information through simple configuration and requires zero programming.
Configurable views can be used to present information in a variety of ways and include dynamic filters, sorting and grouping.
Eliminate Bottlenecks and Avoid Delays
Ennov Process allows you to automate your workflows and enforce the event sequence, workflow participants and business rules that you have defined. Processes that deviate from the defined path or remain stalled for months become a thing of the past.
The process form associated with each workflow retains the information needed at each process step. Each workflow participant has the information needed to complete their task in the proper context. Email notifications and escalations ensure that no process step becomes stalled.
Now anyone can follow any activity, track pending or completed tasks and monitor participant activity to eliminate bottlenecks and avoid delays.
Handling Multiple Business Processes
Our customers use Ennov Process for quality, regulatory, R&D, legal and commercial process management. Ennov Process' high degree of configurability and seamless integration with our Electronic Document Management System (Ennov Doc), our composite document and publishing system (Ennov Dossier) and our data visualization and reporting tools (Ennov Report) allows them the flexibility to meet their internal organizational needs as well as those of their business partners.
For example, Ennov Process is being used by Life Science customers for NC/CAPA and deviations management, customer claims management, internal and external audit management, product launch management, Risk management.
As an added benefit, Ennov Process fully complies with FDA's 21 CFR part 11 requirements (electronic signature, audit trail, records management), making it a perfect fit for regulated industries such as pharmaceutical, biotechnology, animal health, medical device and others.
Customers Love
Comprehensive: same web application for processes, documents, reporting and composite documents
21 CFR part 11 compliant: complete audit trail, two-step electronic signature authentication
Flexible and agile: workflows, forms, views are configurable without IT intervention
User-friendly: easy search, metadata driven views, integrated dashboard
Core-capabilities
Visual workflow and form editing
Powerful workflow engine: Sub workflows, workflow synchronization
Flexible rights management
Workflow versioning
Real-time reporting and visibility
Integrated with Ennov document and dossier management
Full text and advanced multi-criteria search
REST API for advanced integration
Intelligent forms: adapt to process step and actor
100% web-based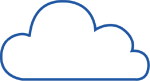 Cloud-based or On Site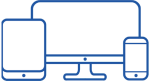 Multi-Platform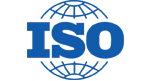 Compliant
Ennov DOC in our content management solution.
Ennov Doc
Electronic document management, advanced and compliant
Ennov Dossier
Composite document management
Ennov Process
Flexible BPMS
Ennov Report
Datamart and reporting solution
Why Choose Ennov ?
Hundreds of corporate customers trust Ennov Process
Over 15 Years of experience providing electronic document management solutions

150+ life science customers, many more in other industries

Modern architecture and interface

Highly scalable application server
100% web-based and user-centric design

You matter to us

98.5% of projects delivered on time and within budgets
Very high levels of customer satisfaction
We respect your freedom of choice
Available for cloud-based or on-premises deployment

You can switch between options at any time.

We make you autonomous

Configuration and management require no IT skills
Integration through REST API

Improved security and optimized performance.

If cloud-based deployment is selected, we offer single-tenancy to minimize business interruption
Data are hosted locally for total flexibility
Structuring AND intuitive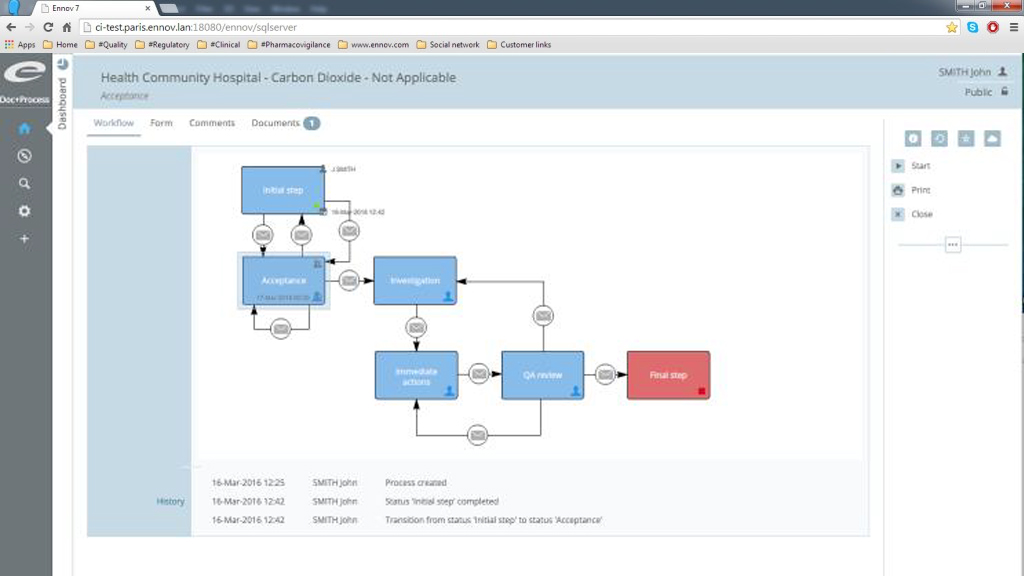 Metadata…
… search …
… views
To book a demo, the best way is to fill the following form. You will be contacted very quickly by our team.
Or
Send us a mail at: contact-us@ennov.com.
Or
Contact our European office.
Or
San Jose, USA

Ennov USA
75 E Santa Clara St – WeWork
San Jose, CA 95113
+1 (833) 366-6887
Or
Paris – Headquarters

Ennov Paris
251 rue du Faubourg Saint Martin
75010 Paris – France
+33 (0) 1.40.38.81.38
Or
Ennov Cambridgeshire – UK
5 Eaton Court Road, Colmworth Business Park
Eaton Socon St Neots Cambridgeshire PE19 8ER – UK
+1 (919) 924 5004
Or
Japan – Digital Media System
https://www.dms-jp.com/en/
Tsukiji N°1, Nagaoka Building 2-3-4 Tsukiji,
Chuo-ku, Tokyo 104-0045, Japon
+81 (0)3-5550-5595