Clinical
Ennov Software improves data quality, builds eCRF faster, and ensures traceability of your international clinical trials.
Purposely designed for operational effectiveness in clinical trials development.
EDC
Easily design and capture multi-centric clinical study data with a single comprehensive software.
Collect data easily and create your CRF 3x faster
---
Why it matters: Avoid delayed entries and data errors with electronic data capture. For the same study, capture data with an online eCRF, an offline eCRF through the iPad, or even an paper CRF. In addition, with Ennov ePro, patients can record their own diaries and quality of life assessments. Our intuitive EDC software significantly streamlines randomization, study design, consistency tests, medical coding (MedDRA, WHO Drug), data import and export. You can design your own eCRF without any IT skills thanks to our graphical CRF creation tool.
Always be fully compliant with all regulatory standards
---
Why it matters: Ennov solutions cover all international regulatory requirements for both Human and Animal health: FDA, HealthCanada, EMA, and ICH. Ennov Clinical is also CDISC ODM certified. Throughout the whole process, your team can validate documents, save evidence, and use electronic signature recordings with ease.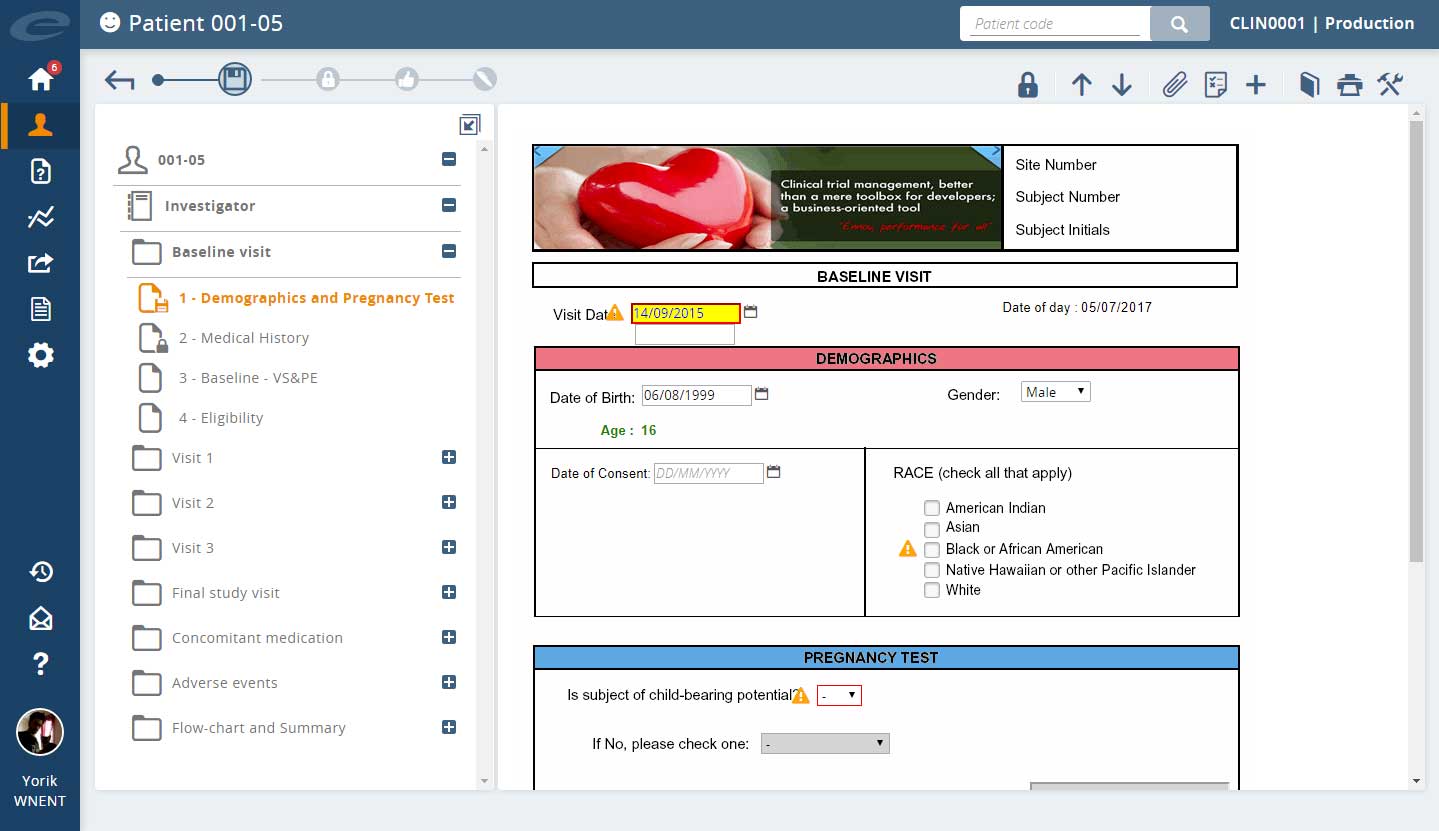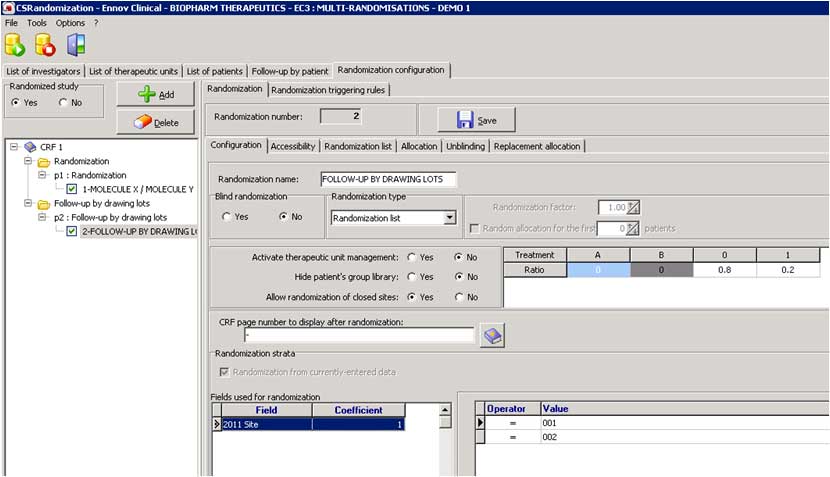 Native patient randomization
---
Why it matters: Ennov Clinical embeds a system for a direct patient randomization in the eCRF. Our IWRS (Interactive Web Response Service) provides many options, such as controlling eligibility through consistency pre-tests, choosing strata and randomization method (blocks, minimization), activating the "Randomization factor", supplying investigational drugs. Our software makes it easier to manage a double-blind study and prevents any anticipation of later allocations. With Ennov Randomization module, you can have a global view of the randomization among all patients (i.e., success or failure) or at the individual patient level (various randomization operations or drugs allocations).
CTMS
Simultaneously supervise multiple clinical trials from beginning to end with Ennov's comprehensive Clinical Trial Management System.
Monitor the progress of all your clinical studies
---
Why it matters: Clinical Research Associates and managers should have the relevant information when they need it most. With the Ennov Monitor functionality, you'll be able to actively cover all aspects of monitoring from a single platform: investigator sites, patients, SAEs, deviations, inclusions, visit reports, phone contacts, investigational drugs management, trial facilities, and financial issues. Ultimately, plan, collect and track the essential study documents, financial information and activities for a better operational effectiveness.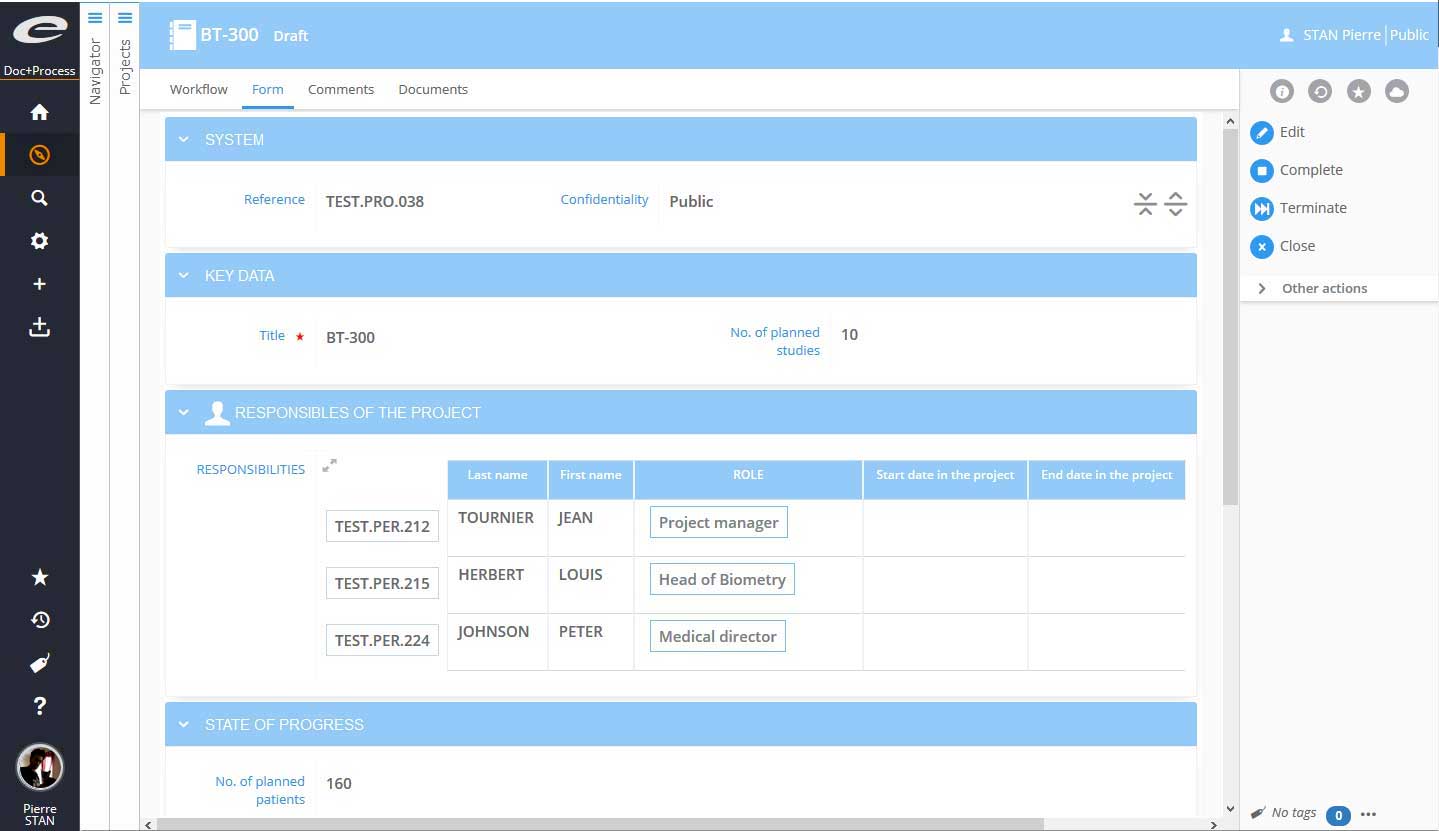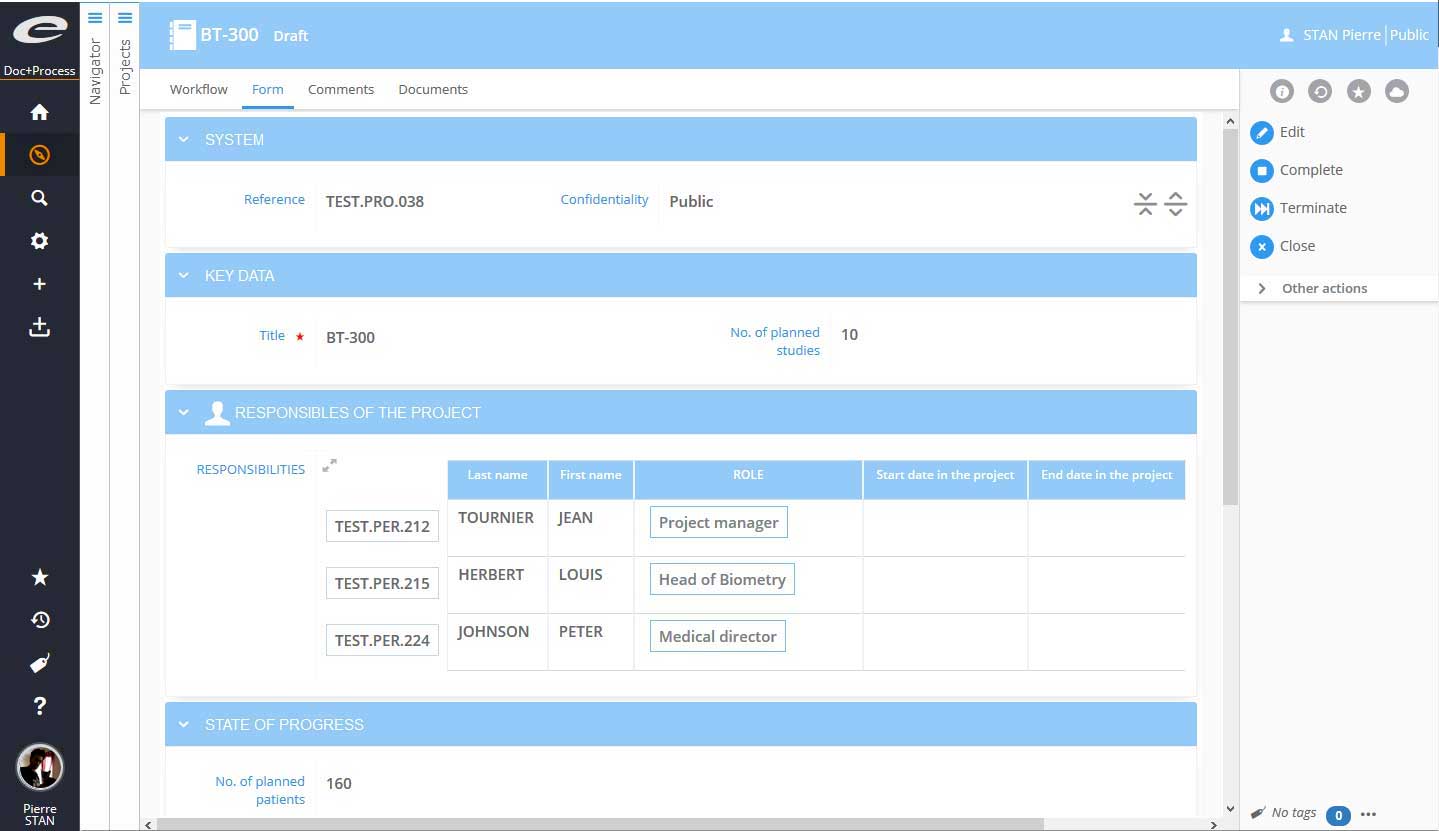 Manage multiple clinical trials in a centralized trial management database
---
Why it matters: Investigators can plan and track their programs and projects in real time to make better decisions in the timeliest manner. With the Ennov Dashboard functionality, clinical research associates and managers get on-demand analytics to improve quality, control risk, and reduce costs. Collect and track all relevant data to improve the performance of your sites, investigators and CROs activities to optimize your budget.
eTMF
Build, share and store your Trial Master File in a unique platform with Ennov Electronic Trial Master File (eTMF).
Maintain efficiency, quality, and traceability with minimal IT help
---
Why it matters: Clinical Trials are the most expensive, strategically important and critical step in the product life cycle. Ennov Clinical allows management of the eTMF and features a robust platform to ensure companies can deploy complete regulatory content management systems without requiring extensive IT resources.
Improve interoperability and collaboration between Sponsors, CROs and investigators
---
Why it matters: Ennov electronic Trial Master File (eTMF) allows sponsors, CROs and investigators to easily monitor all their clinical document processes in compliance with the regulatory agencies requirements. Securely review, audit, inspect and search TMF documentation from any location with Ennov eTMF application for iPad. Following the DIA TMF Reference Model, Ennov eTMF embeds a unique document repository using data standard to homogenize and better organize your document lifecycle.