Ennov Dossier
Submission Management Software
Create and manage your Regulatory dossiers
Publish to any output format
Ensure compliant submissions
Robust hyperlinking and bookmarking
100% web-based, in the cloud or on premises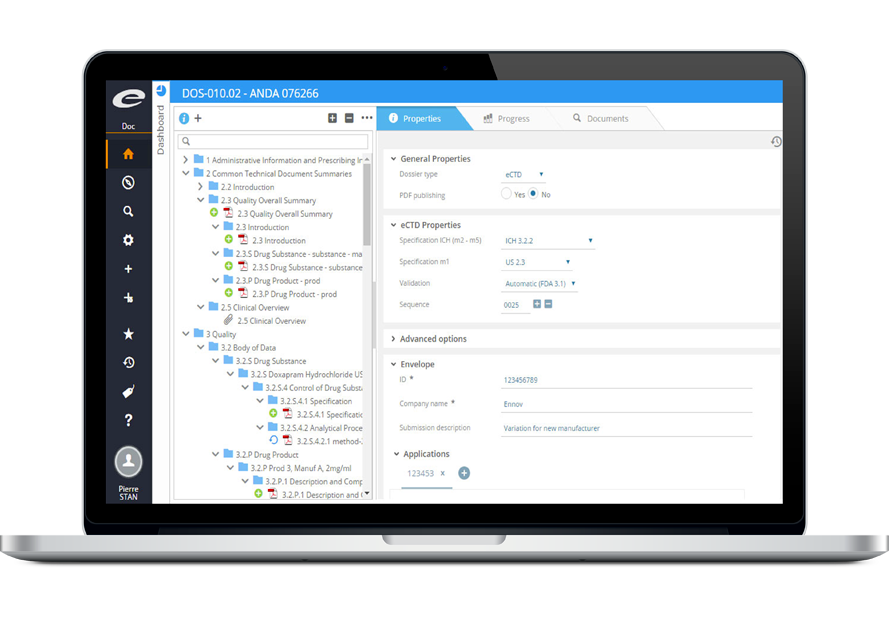 The Submission challenge
The efficient production of compliant regulatory submissions is the goal of every regulatory operation. Having a single publishing solution that can effectively produce a variety of submission output formats provides a distinct advantage in terms of flexibility, training and total cost of ownership.
Ennov Dossier is a complete and scalable dossier management and submission publishing solution that is suitable for regulatory operations of all sizes. Ennov Dossier produces output that is compliant with all current health authority requirements:
CTD (Common Technical Document) for paper publications
eCTD and NeeS (Non eCTD electronic submission) for electronic publications
vNeeS for the veterinary sector
eCopy for medical devices
Ennov Dossier is comprehensive and meets the most demanding requirements for regulatory submissions while still being intuitive and easy to use.
Benefits of Ennov Dossier
Support for CTD, eCTD, Nees, VNees,and eCopy formats
Regional eCTD templates for FDA, EMA, Health Canada, Swissmedic, TGA and GCC
Easy-to-use submission assembly controls for the capture and management of eCTD metadata
Drag & drop documents from Ennov Doc or any WebDAV repository into the submission assembly
Robust hyperlinking, bookmarking and eCTD validation functionality
100% web-based, ideal for multi-site or global deployments
Efficient and easy to use
Ennov Dossier provides the ability to build, manage, publish, validate and archive regulatory dossiers using the native capabilities found within Ennov Doc.
This eliminates the fragmented and inefficient processes of locating, copying and uploading the documents that you need for your regulatory submissions – providing a harmonized and seamless dossier publishing solution.
A simple drag-and-drop interface allows publishers to link documents into submission assemblies quickly and easily.
Better productivity with EDMS
Ennov Dossier, when combined with Ennov Doc, provides the ability to manage your regulatory dossiers using all of the robust functionality of our innovative EDMS.
Automated dossier life cycles, workflows and notifications eliminate fragmented manual processes and increase productivity.
Ennov's unique metadata-based navigation also helps improve productivity by allowing users to quickly locate dossiers using their properties rather than a storage location in a filing hierarchy.
Easy and compliant submission publishing
Submission assembly templates are provided for the regions that accept eCTD submissions (e.g. US, EU, GCC, Canada, Swissmedic, TGA) as well as for other non-eCTD formats and can be modified to meet a client's specific requirements. Ennov provides regular updates to these templates as the regulatory guidance changes.
Ennov Dossier also provides the ability to create Tables of Contents, hyperlinks, bookmarks and other navigation aides to assist in the review of the dossier.
During publishing all the necessary components for a compliant submission, including the required ICH and regional XML files, correctly named leaf files and folder structures are created.
Customers Love
Ease of use: intuitive user interface results in high adoption rates
Comprehensive capabilities: publish to any output format, for any market
Rapid creation of submissions: using supplied assembly templates
Eliminate errors: built in eCTD validator reduces Refusal to File risk
Reduced IT workload: 100% web-based, requires no desktop installation
Core-capabilities
Integrated with Ennov Doc EDMS
Supports all common submission formats
Manages dossier life cycles
View publications in draft mode
Integrated eCTD validator
Manages storage and archiving
Manages eCTD sequences
Intuitive search engine
Robust hyperlinking and bookmarking
100% web-based interface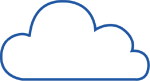 Cloud-based or On Site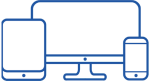 Multi-Platform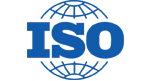 Compliant
Ennov Dossier in our content management solution.
Ennov Doc
Regulatory document management, DIA EDM reference model
Ennov Dossier
eCTD, NeeS, vNeeS, CTD submission dossier management
Ennov IDMP
IDMP ready products and services
Ennov RIM
Comprehensive regulatory information management solution
Why Choose Ennov ?
Hundreds of corporate customers trust Ennov Dossier
Over 15 Years of experience providing electronic document management solutions

150+ life science customers, many more in other industries

Modern architecture and interface

Highly scalable application server
100% web-based and user-centric design

You matter to us

98.5% of projects are delivered on time and within budgets
Very high levels of customer satisfaction
We respect your freedom of choice
Available for cloud-based or on-premises deployment.

You can switch between options at any time.

We make you autonomous

Configuration and management require no IT skills
Integration through REST API

Improved security and optimized performance.

If cloud-based deployment is selected, we offer single-tenancy to minimize business interruption
Data is hosted locally for total flexibility
Structuring AND intuitive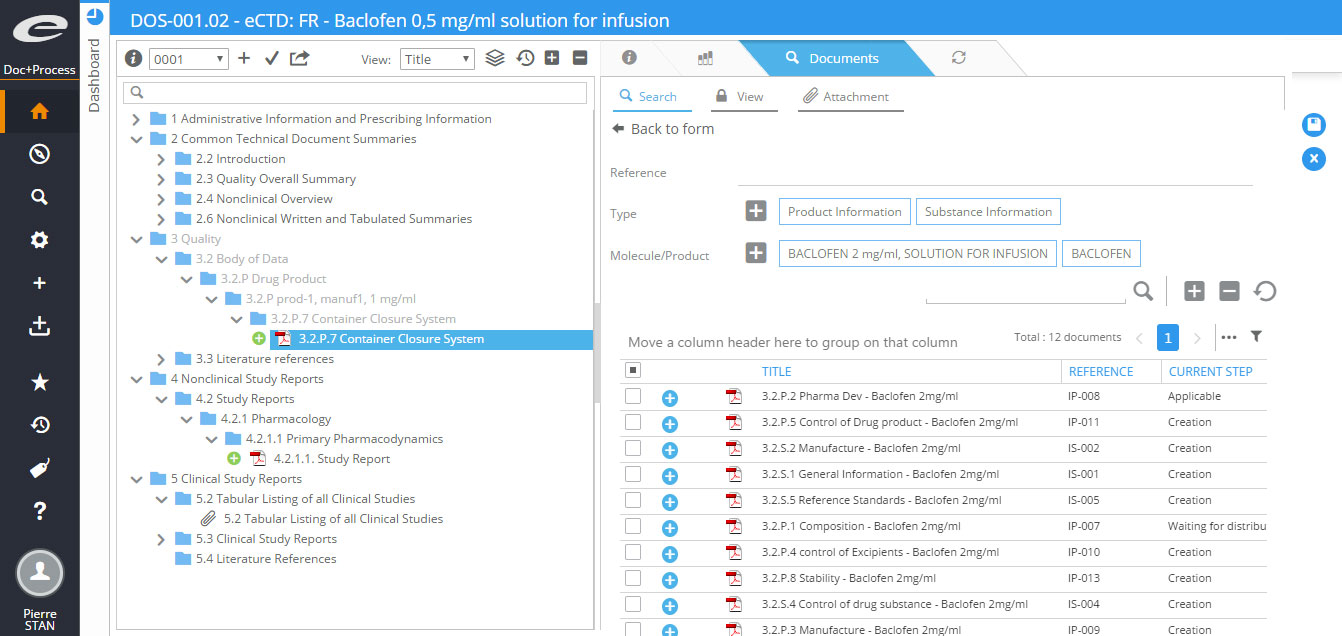 Select…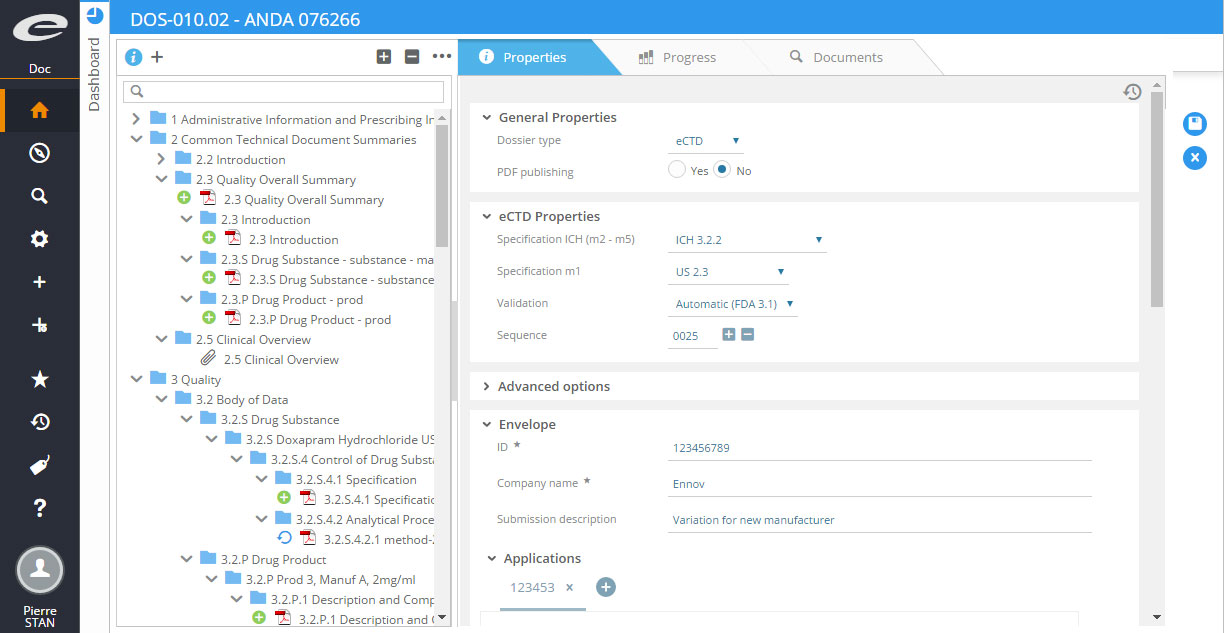 … eCTD properties …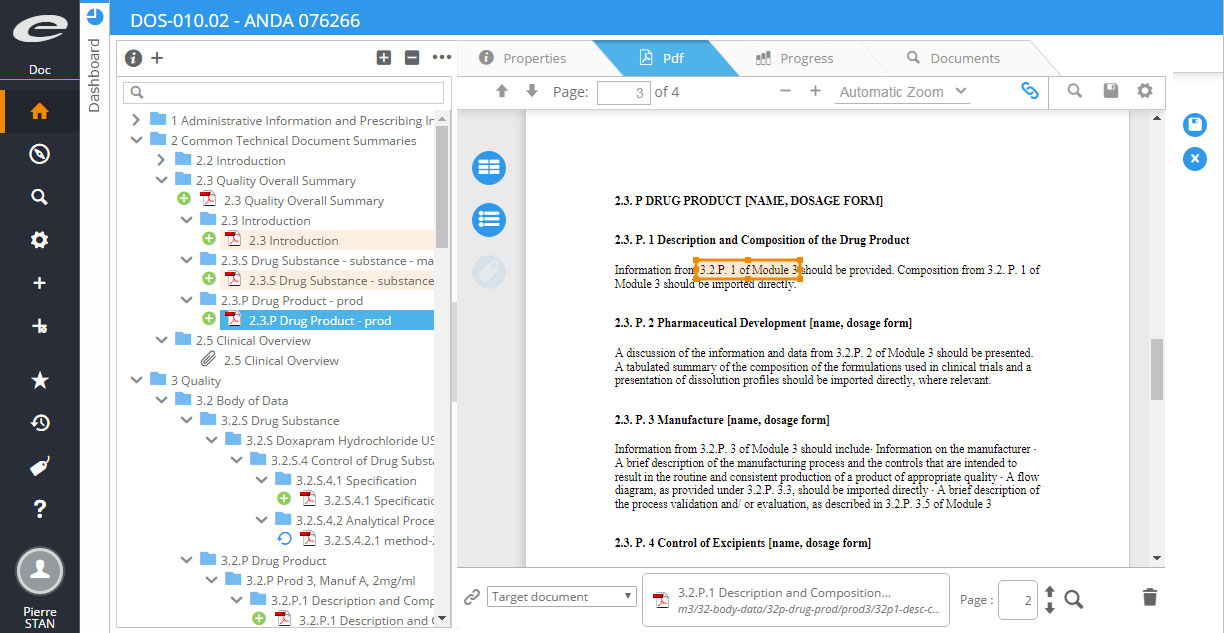 … create hyperlinks
Book a demo of Ennov Dossier
To book a demo, the best way is to fill the following form. You will be contacted very quickly by our team.
Or
Send us a mail at: contact-us@ennov.com.
Or
Contact our European office.
Or
San Jose, USA

Ennov USA
75 E Santa Clara St – WeWork
San Jose, CA 95113
+1 (833) 366-6887
Or
Paris – Headquarters

Ennov Paris
251 rue du Faubourg Saint Martin
75010 Paris – France
+33 (0) 1.40.38.81.38
Or
Ennov Cambridgeshire – UK
5 Eaton Court Road, Colmworth Business Park
Eaton Socon St Neots Cambridgeshire PE19 8ER – UK
+1 (919) 924 5004
Or
Japan – Digital Media System
https://www.dms-jp.com/en/
Tsukiji N°1, Nagaoka Building 2-3-4 Tsukiji,
Chuo-ku, Tokyo 104-0045, Japon
+81 (0)3-5550-5595