Regulatory
Ennov streamlines Regulatory operations to increase efficiency and improve performance.
Effective collaboration. Faster submissions. Complete visibility. Full compliance
Regulatory content
Create, manage and control your regulatory content according to industry standards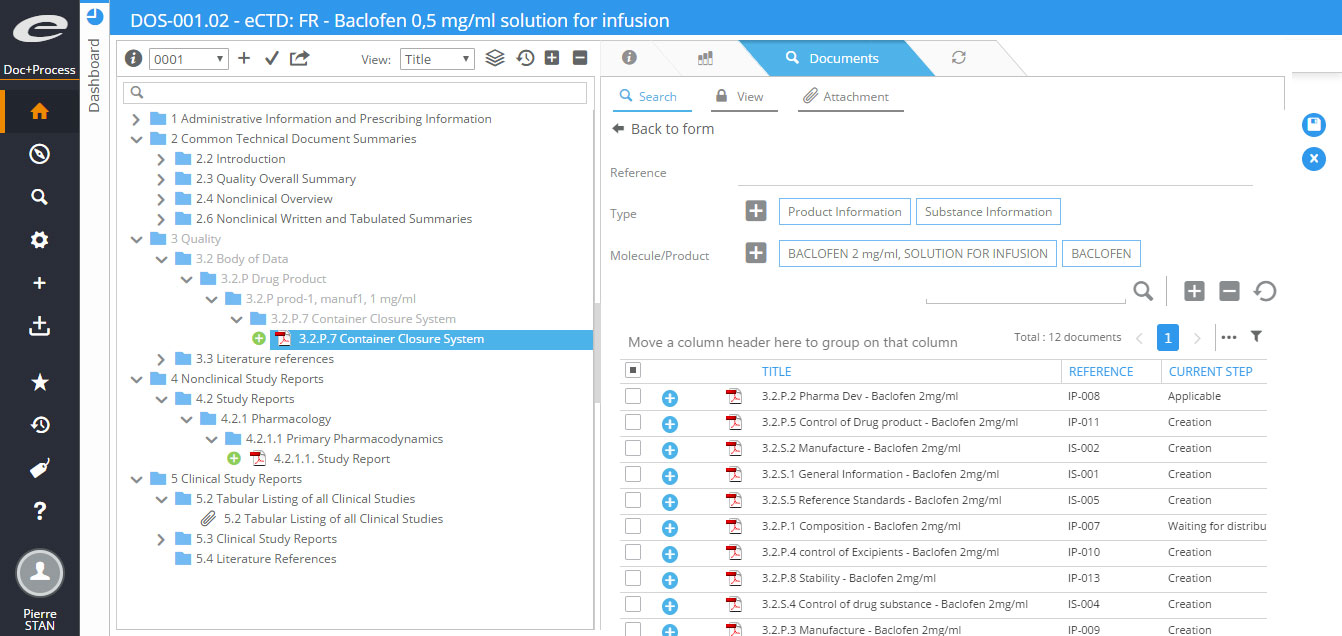 An integrated document management solution for secure and efficient collaboration.
---
Why it matters: The fragmented processes for creating, organizing and sharing documents to support your Regulatory submissions can be painful. Reliance on file shares with complex and inconsistent filing schemes, emails and tracking spreadsheets to manage your company's most valuable assets is inefficient, error prone and risky. Ennov's fully integrated document management and dossier publishing solution streamlines your Regulatory operations, ensures compliance and reduces your time to market. Our comprehensive functionality combined with outstanding user ergonomics result in very high adoption rates – accelerating your return on investment.
Choose the deployment option that works best for you: in the cloud or on premises.
---
Why it matters: We have a deployment solution to fit your business needs, even if you are resource or budget constrained. Our cloud-based SaaS solution is free of complexity and doesn't require IT support – ideal for rapid, turn-key deployments. For companies that prefer to keep IT control in-house, we also offer an on premises model. Whichever option best suits your requirements, Ennov ensures your data is always protected and remains safe and secure.
Dossier publishing
Web-based Ennov dossier publishing solution is the smartest way to manage regulatory submissions.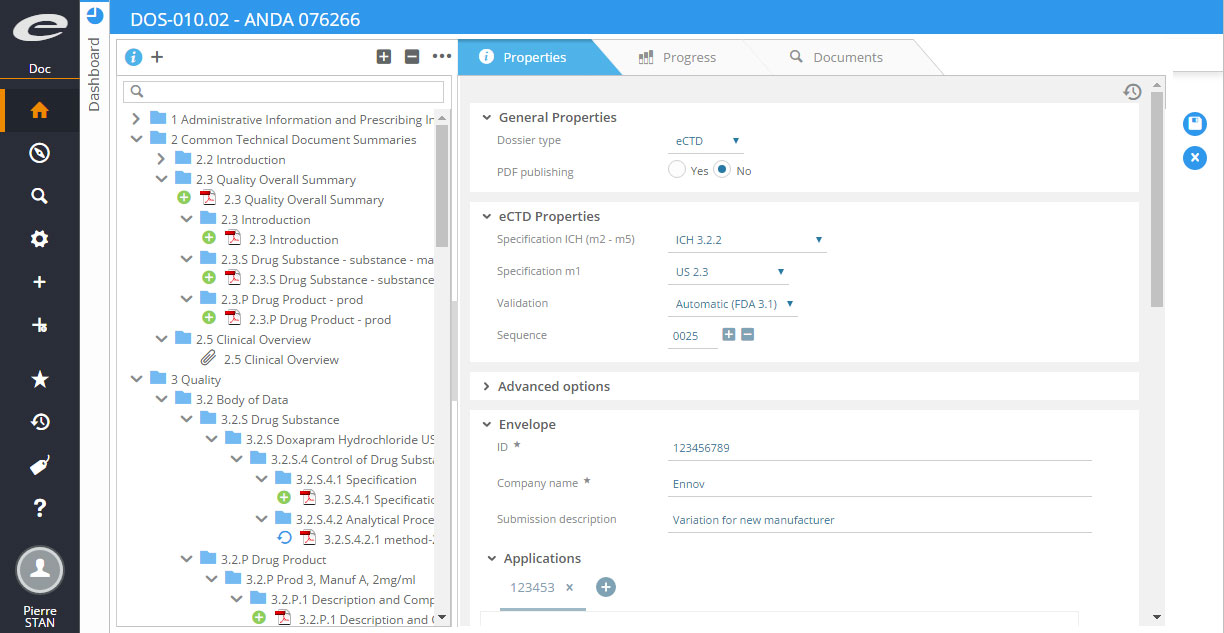 Prepare dossiers in all required formats. Be faster to market.
---
Why it matters: The efficient production of compliant regulatory submissions is the goal of every regulatory operation. While the benefits of eCTD submissions are well documented, many countries still require paper or non-eCTD formats. While this disparity remains in the industry, having a single dossier publishing solution that can effectively produce a variety of submission output formats provides a distinct advantage in terms of flexibility, training and total cost of ownership.
Verify your work, automatically.
---
Why it matters: The increasing complexity of global regulation makes it difficult to generate regulatory submissions that are compliant from both a content and technical perspective. Building validated output that enhances a regulatory agency's ability to navigate and review a submission is vital to streamlining the approval process and accelerating time to market. With Ennov, eCTD verifications are automatically performed during the dossier creation phase to ensure compliance and minimize errors. Not sure if you're ready to publish? Preview the differences between submission sequences before publishing to simplify the lifecycle maintenance of original applications.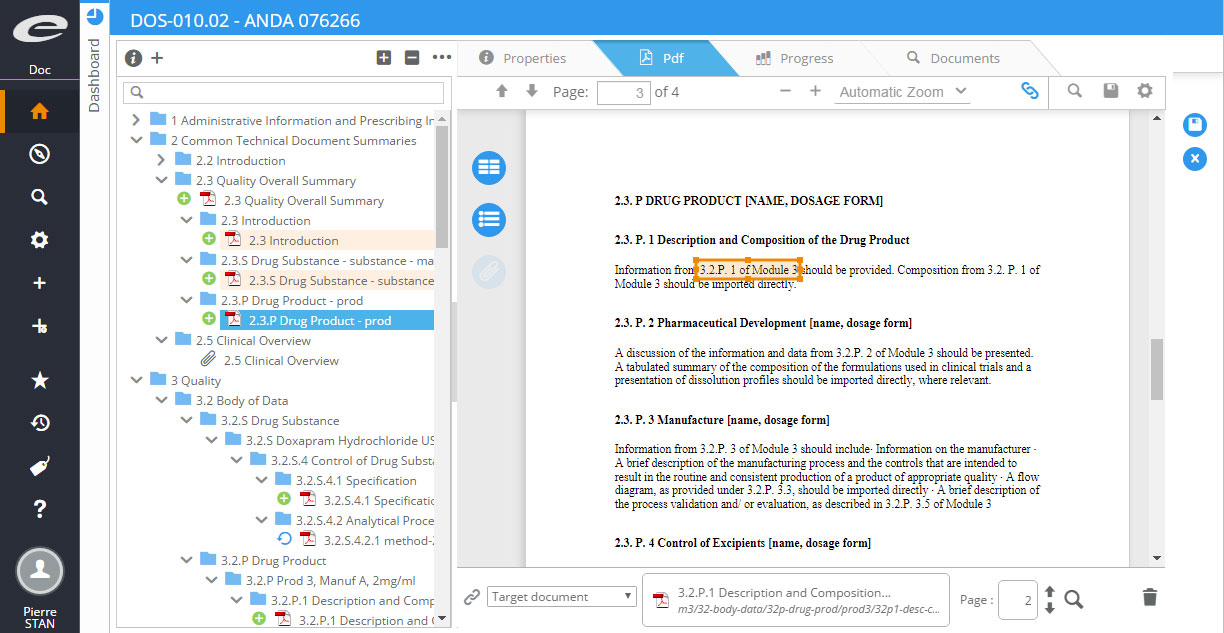 Enhance navigation and reviewability
---
Why it matters: Good navigation enhances the reviewers' experience and interaction with the submission. Ennov provides robust hyperlinking capabilities to help streamline the review process. Our navigation aids also include the automatic creation of tables of contents, bookmarks and Study Tagging Files (STFs)..
Answers to your product registration questions in one place.
---
Why it matters: Regulatory information management at global organizations is rarely integrated and usually consists of collections of spreadsheets, home grown databases, emails and ad hoc reports – each full of redundant and/or inconsistent data. However, as product registrations become increasingly complex and volumes increase, companies are realizing that the ability to answer questions about all regulatory activity in an efficient and timely manner is critical to effective operations that ensure enterprise-wide compliance.
Integrated platform. Real-time information. Improved decision-making.
---
Why it matters: Ennov RIM is a purpose-built application for the management and tracking of medicinal product details and registration information. Whether you are planning the launch of a new product or handling variations to existing registrations, Ennov RIM provides users with the key information and functionality to effectively manage your product portfolios worldwide.